Introducing Heart Check-up Coupon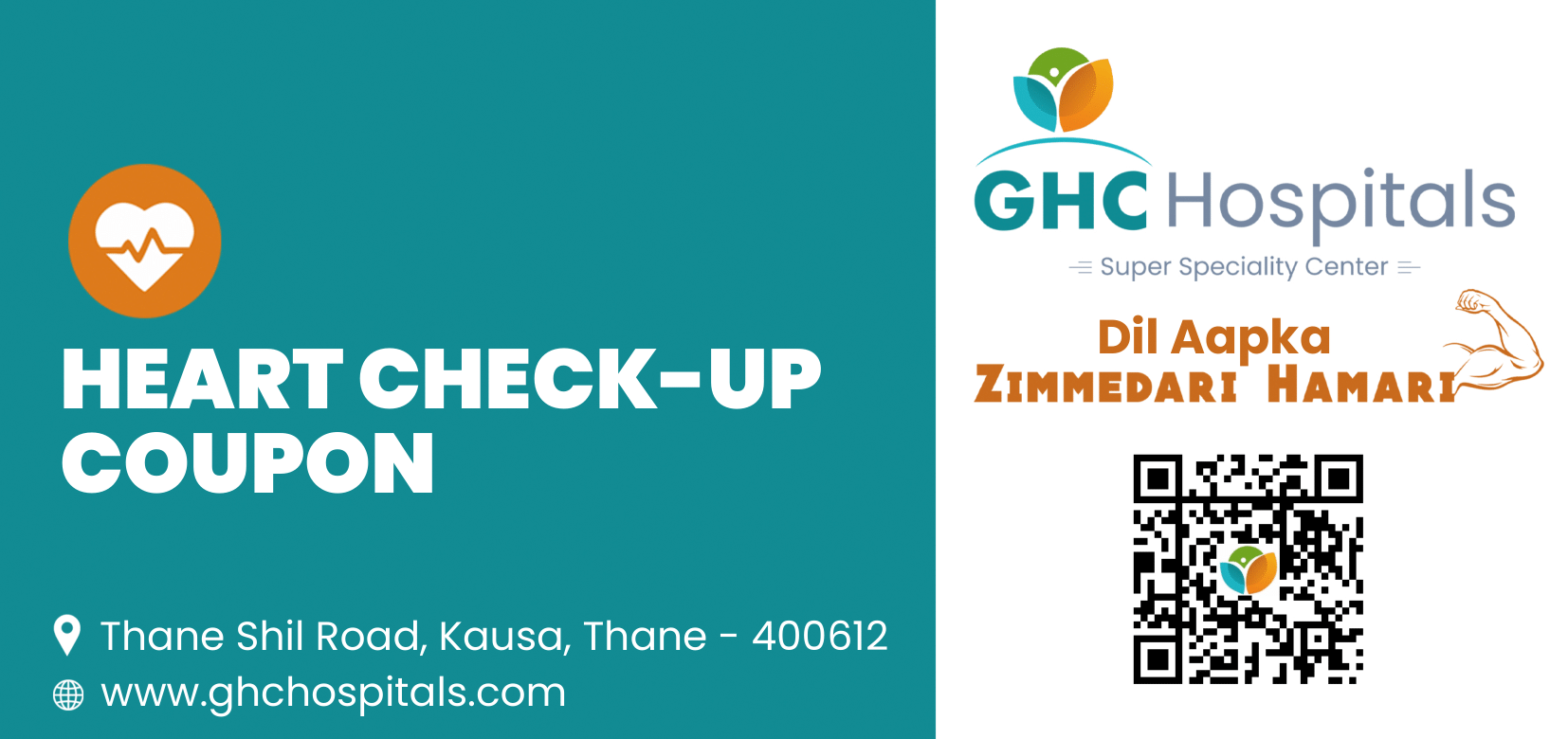 Cardiac Science
GHC Hospitals provide a comprehensive cardiac health care through diagnostics, medical disease treatment, and rehabilitation – for a wide range of heart ailments and disorders in people of all ages.
Cardiology services provide multidisciplinary facilities for the diagnosis and therapy of different heart diseases and illnesses. A Cardiologist is responsible for interventional cardiology operations such as angioplasty and pacemakers, as well as the medicinal (non-surgical) therapy of different heart, blood vessel, circulatory system, and metabolic (lipid) problems. A Cardiovascular Surgeon, on the other hand, is responsible for surgical therapies.
Conditions
Coronary Artery Disease (CAD)

Heart Attack (Myocardial Infarction)

Congestive Heart Failure (CHF)

Arrhythmias (Irregular Heartbeat)

Atrial Fibrillation

Hypertension (High Blood Pressure)

Valvular Heart Disease

Cardiomyopathy

Angina

Peripheral Artery Disease (PAD)
Pulmonary Hypertension

Heart Valve Infections (Endocarditis)

Congenital Heart Defects

Aortic Aneurysm

Cardiac Arrest

Syncope (Fainting)

Bradycardia (Slow Heart Rate)

Tachycardia (Fast Heart Rate)

Long QT Syndrome

Hypertrophic Cardiomyopathy
Procedures
Coronary Angiography and Angioplasty (PCI)

Coronary Artery Bypass Grafting (CABG)

Heart Valve Repair or Replacement

Pacemaker Implantation

Implantable Cardioverter Defibrillator (ICD) Implantation

Cardiac Catheterization

Electrophysiology Studies and Ablation

Echocardiogram

Stress Test (Exercise Tolerance Test)

Carotid Angioplasty and Stenting
Holter Monitoring

Transesophageal Echocardiography (TEE)

Heart Biopsy

Cardioversion

Ventricular Assist Device (VAD) Implantation

Heart Transplantation

Cardiac MRI

Myocardial Biopsy

Percutaneous Balloon Valvuloplasty

Ablation Procedures (Atrial Fibrillation, Ventricular Tachycardia)
Our Services
At GHC Hospitals, we offer a wide range of cardiac services to cater to your specific needs:
Cardiology Consultations: Our experienced cardiologists provide thorough evaluations, precise diagnoses, and personalised treatment plans to address various cardiac conditions.
Interventional Cardiology: Our skilled interventional cardiologists perform minimally invasive procedures such as angioplasty and stent placement to treat blockages and restore blood flow to the heart.
Cardiac Surgery: Our expert cardiac surgeons excel in a variety of surgical procedures, including bypass surgeries, valve replacements, and congenital heart defect repairs.
Electrophysiology: Our specialized team focuses on diagnosing and treating heart rhythm disorders, offering advanced treatments like pacemaker and defibrillator implantations.
Heart Failure Management: We provide comprehensive care for heart failure patients, including medication management, lifestyle guidance, and advanced therapies to improve quality of life.
Expert Team
Our Cardiac Science Department is staffed by a team of highly skilled and board-certified cardiologists, cardiac surgeons, and healthcare professionals who are dedicated to delivering the best possible care.
Cutting-Edge Technology
We stay at the forefront of cardiac science by utilizing state-of-the-art diagnostic tools, advanced imaging techniques, and innovative treatments.
Comprehensive Care
From diagnosis to treatment and rehabilitation, we offer a holistic approach to cardiac care, ensuring you receive the complete support you need.
Patient-Centered Approach
Your well-being is our top priority. We focus on open communication, thorough education, and involving you in every step of your treatment journey.
Rehabilitation Services
Our cardiac rehabilitation programs are designed to help you regain your strength, build endurance, and adopt heart-healthy habits to maintain your well-being.
If you're concerned about your heart health, experiencing symptoms such as chest pain, shortness of breath, or palpitations, our Cardiac Science Department is here to provide expert care and guidance. Take a step towards a healthier heart by scheduling a consultation today at GHC Hospitals.
Patient Experience at GHC Hospitals
Patient Experience at GHC Hospitals